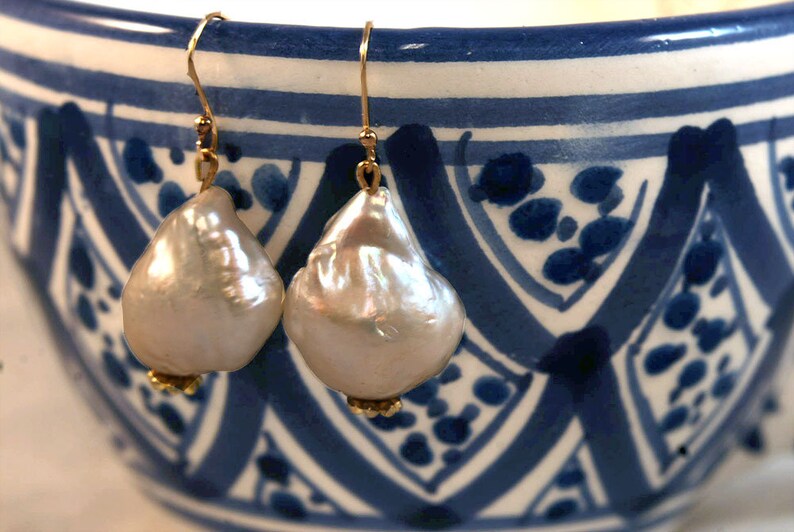 Large white freshwater pearl drop earrings inspired by vermeer's girl with a pearl earrings is an exceptional recreation of an exceptional earring.
These baroque pearl drop earrings were made famous by the 2003 Lions Gate film by the same name, Vermeer's Girl with a Pearl Earring painting is a very well-known historical image in modern times. The film is based from Tracy Chevalier's 1999 historical novel Girl with a Pearl Earring. The hard-to-come-by colossal white pearl drop is a rare find. Truly breath-taking…the perfect reproduction earrings for any occasion. A great pair of high-quality earrings that would express the elegant simplicity of the 17th century as seen in Vermeer's picture, but would also be suitable for wear by a 21st-century woman.

The painting Girl with a Pearl Earring (Dutch: Het Meisje met de Parel) is one of Dutch painter Johannes Vermeer's masterworks and as the name implies, uses a pearl earring for a focal point. Today the painting is kept in the Mauritshuis gallery in the Hague. It is sometimes referred to as "the Mona Lisa of the North" or "the Dutch Mona Lisa". It will be on tour at the De Young Museum in San Francisco in January-June 2013.
The portrait is the first work scanned by Hirox's high-resolution microscope. Beginning in 2018 scientists generated an ultra-high-resolution panoramic image consisting of 93,205 x 108,565 pixels. These pixels came from the creation of 9,100 different scans. The scanner's technology was also capable of three-dimension close-ups. The result was ten sections of high-quality resolution that historians could explore Vermeer's painting technique. It is the first 10 billion pixels panoramic image of a painting.
Baroque Pearl Drop Earrings
* size .875 inches or 22.2 mm, width is 0.625 of an inch or 15.875mm
* weight 3 grams each. Total of 30 carats
* vermeil findings (24k gold over sterling silver)
* by Nancy Tranter
nancystoreonline.com
to see more in depth information about my jewelry check out jewelry