Wishing all of you a happy New Year's Eve! trendy fashion jewellery this new year by vogue buy an inspiration of it nancystoreonline.com at my store
Trendy Fashion Jewellery White Pearl Lariat Tassell Necklace, Gold Filled Chain, Venetian Glass, Vermeil Beads
The above photo showcases a gorgeous trendy fashion jewellery necklace. The necklace is AAA grade white pearl. Seed pearls are used for the tassel ends, 24k gold Vermeil Balinese Beads along with Venetian Hand Blown Glass, and Gold Plated Filigree Bead Caps. The Chain is made out of 12k gold filled.
* Approx. length: 47″, 1,193.8mm
* Approx. width: .75″, 19mm.
* 12k gold filled chain
* 24k gold vermeil beads
* By Nancy Tranter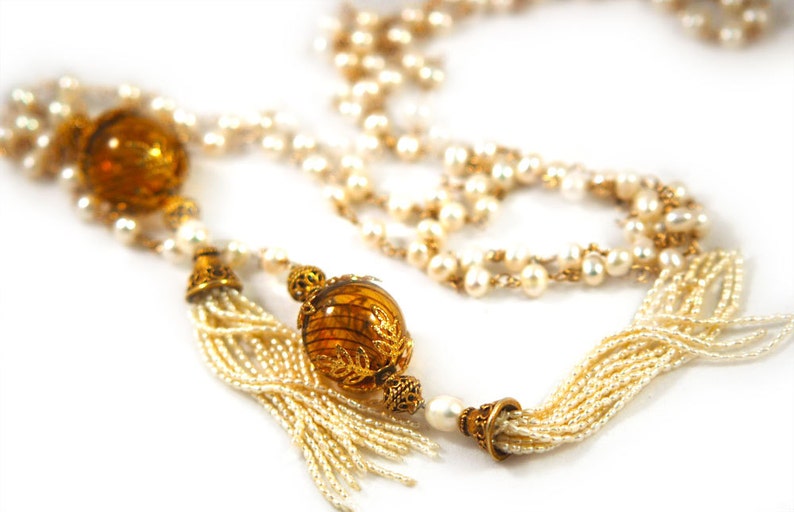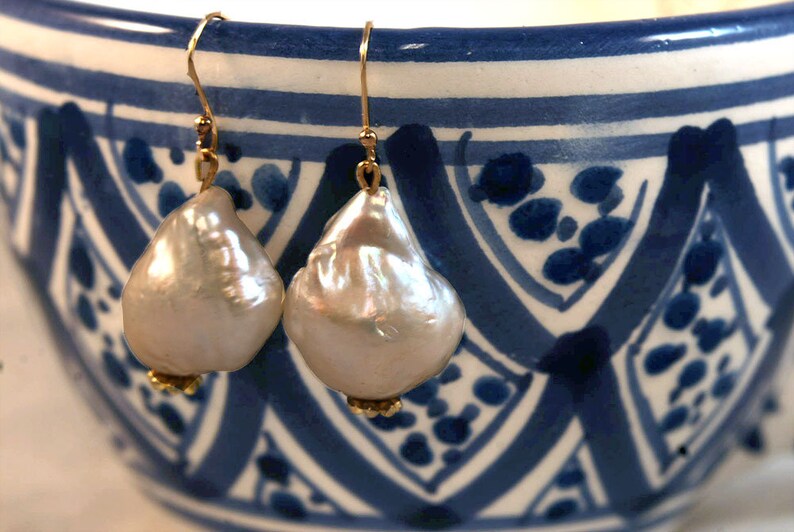 Large White Freshwater Pearl and 24k Gold Vermeil Earring
The hard-to-come-by colossal white freshwater pearl drop is a rare find. Truly breath-taking…the perfect earrings for any occasion. The elegance of the 17th century is expressed in this pair of high-quality earrings. The 21st century woman would find this suitable to wear.
Best known for their whimsical shapes and wide variety of sizes and colors. Notable surface texture and the glow of its luster is the main characteristic of a freshwater pearl. The nacre of a high-quality freshwater pearl does not typically have the glossy, metallic finish found in akoya pearls. The creation of a pearl starts with nucleation. Nucleation is the process of surgically implanting with 24 to 32 tiny pieces of mantle tissue.Sac formation will begin and cells will begin secreting a nacre. A formation of calcium-carbonate compound creates a pearl. The mussel deposits layer upon layer of nacre around the growing gems. This takes about 2 to 7 years.
* size .875 inches or 22.2 millimeters, width is 0.625 of an inch or 15.875mm
* weight 3 grams each. Total of 30 carats
* vermeil findings and bead (24k gold over sterling silver)
* by Nancy Tranter
For my other graphic design resources check out my category archives graphic section