Color of the Year's Chemistry and What's Behind Pantone's Marsala 18-1438
Marsala enriches our mind, body and soul, exuding confidence and stability. Much like the fortified wine that gives Marsala its name, this tasteful hue embodies the satisfying richness of a fulfilling meal, while its grounding red-brown roots emanate a sophisticated, natural earthiness. This hearty, yet stylish tone is universally appealing and translates easily to fashion, beauty, industrial design, home furnishings and interiors.
Marsala is a one of a kind art yarn that I spun. The thick and thin art yarns look amazing in finished products! Handspun corespinning is a slow spinning technique which results in the yarn looking very different from a traditional single. The fibers are allowed to wrap around a core thread at a 90 degree angle, it allows the spinner to create a very strong, soft, warm and lofty yarn. however due to the longer time it takes to create a Corespun yarn the cost is higher.
This Yarn is bulky so I like to knit on a size US 10 but you can knit on any size! Thats the beauty of Art Yarn. The cotton, acrylic, wool blend is based on Marsala PANTONE 18-1438. Covered in garnet colored crystal, freshwater pearls, semi precious carnelian, silk ribbons, gold fibers and some gorgeous other found objects. The inspiration came from Byzantium's vibrant and energetic color palette jewel tones of red and gold with the pop of white pearls. Woven on a very strong nylon cord.
Bulky – Marsala Handspun Art Yarn
Approximately 31 yards, weight 4.8oz
3-4 WPI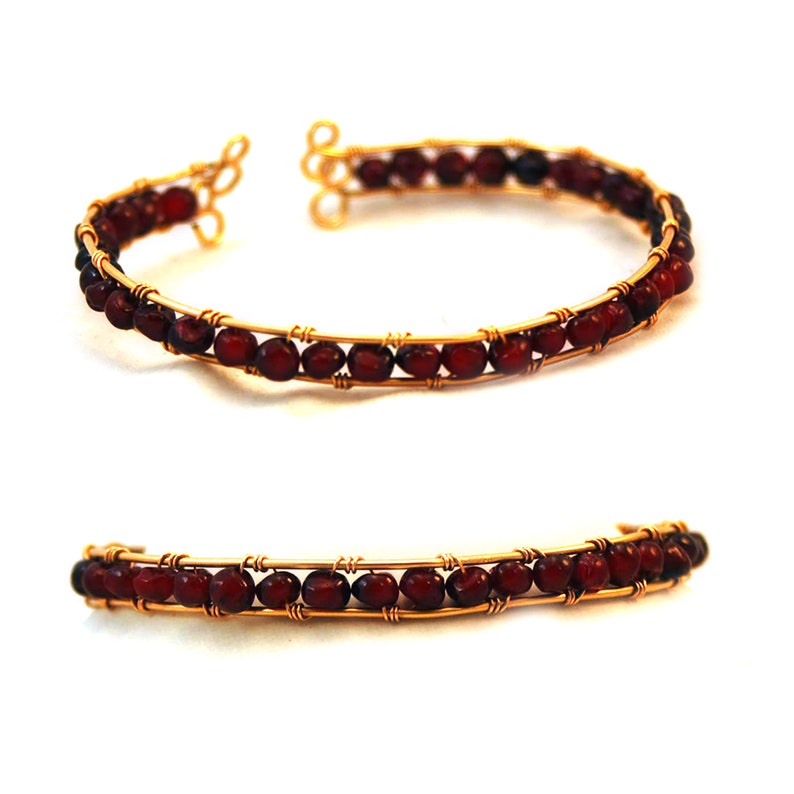 Here is another Marsala example of the deep tones of red brown in this 24k Gold Filled Garnet Wire Wrapped Bracelet. Deep red purple color gemstone. For my other graphic design resources check out my category archives graphic section 
Wire molds to wrist one size
5mm grade C Natural Garnet
By Nancy Tranter