Earrings cloisonne gold, green, Czech fire polished glass cathedral gold plated Buy it here at my store
The riches from Eastern Europe's history are major draws for art history buffs, students of royal culture, and, archeologists. While the possession of these treasures from the past by individuals was often the result of gigantic gaps between the peasantry and the ruling families, their beauty, design, mystery, and provenance of Eastern European riches keep us curious. In this photograph we have Cloisonne gold earrings.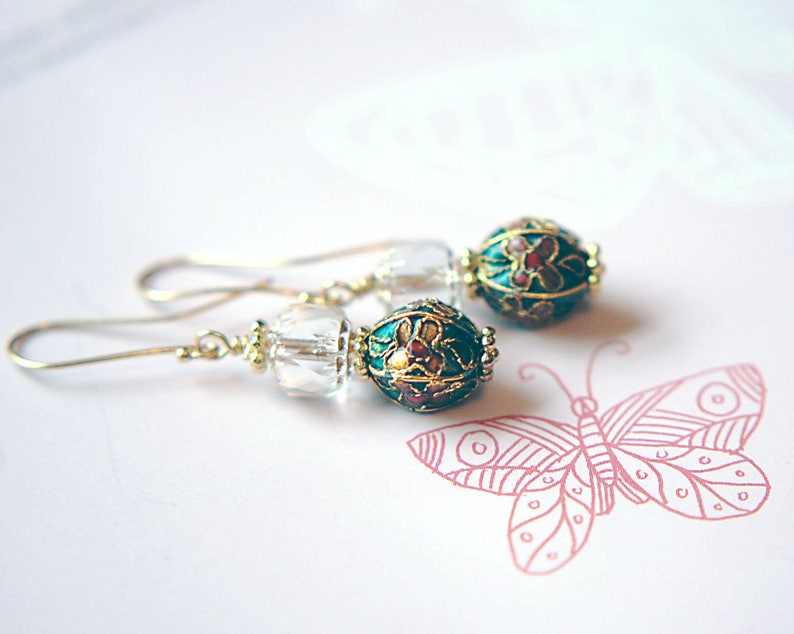 Cloisonné is an ancient technique for decorating metalwork objects, in recent centuries using vitreous enamel, and in older periods also inlays of cut gemstones, glass, and other materials. The resulting objects can also be called cloisonné. The decoration is formed by first adding compartments (cloisons in French) to the metal object by soldering or gluing silver or gold wires or thin strips placed on their edges. These remain visible in the finished piece, separating the different compartments of the enamel or inlays, which are often of several colors. Cloisonné enamel objects are worked on with enamel powder made into a paste, which then needs to be fired in a kiln. The technique was in ancient times mostly used for jewelry and small fittings for clothes, weapons, or similar small objects decorated with geometric or schematic designs, with thick cloison walls. In the Byzantine Empire techniques using thinner wires were developed to allow more pictorial images to be produced, mostly used for religious images and jewelry, and now always using enamel.
Created by skilled artisans, each cloisonne bead can take up to four hours to produce. Dozens of tiny cells are arranged on the bead's surface, filled with enamel color, and fired. Then each bead is polished, revealing intricate and beautiful designs. Due to the handcrafted nature of the beads, size, shape, and colors may vary this one here is made this one here is honeysuckle, gold, green 10mm. Czech fire-polished glass beads have faceted sides and intricate metallic, enhanced detailing on the top and bottom. Each of these is a treasure in itself and add exquisite charm this one here is transparent gold, 8mm cathedral Gold Plated Surgical Steel Earwire
for more info check out my other jewelry articles
Earrings Cloisonne Gold
* Approx. length: 2.00", 50.8mm
* width: 0.4″, 10mm
nancystoreonline.com